How to Apply Car Stickers 
Car stickers, bumper stickers,  decals.  Call them what you want, they are the quickest and easiest way to pimp your ride 😎. 
Whether you want to apply car stickers to a scratch or dent or show the world how much you love butterflies, flowers, cats, dogs or even flame throwing, devil worshipping monkeys!!!**,  car stickers are easy to apply (if you follow the instructions that is ) and are a great way to make your car as unique as you are (cliche alert!!)
** No flame throwing, devil worshipping monkeys were hurt in the writing of this blog..... we don't sell them either....just saying. 
STEP 1: CLEAN, CLEAN & CLEAN!! Before you apply. 
TAKE YOUR TIME TO GET IT RIGHT... YOU GET ONE SHOT AT THIS!!
Ok, so maybe not like that pic but, seriously, read on, its important....
First make sure you have a dry place and no wind to apply your decal.
Make sure to prep the area, this is the most  important part of applying a sticker!  If you put your decal or sticker on a dirty surface, it will just pick that dirt and grim up like a lint roller does your shirt, those aren't so sticky after you use them are they!  So lets make sure the area is nice and clean so that it can adhere to where you are going to apply it. 
You can use soap and water, rubbing alcohol, or any other fast drying cleaner.  My favorite is rubbing alcohol since it dries by itself within seconds and leaves no residue behind.  On that note, do NOT use anything like windex or other household spray cleaners that leave a residue behind or oily substance, that defeats the purpose and will cause your decal/sticker not to adhere to the best of it capabilities.
2: DECIDE AND PEEL YOUR CAR STICKER
SERIOUSLY...TAKE YOUR TIME, YOU GET ONE SHOT AT THIS!!
After you have cleaned your car, you now need to decide where you want to center your decal in the area you cleaned.  I use a measuring tape to measure from different spots on the car to make sure I have it exactly where I want it and that it will not turn out crooked.  When I measure I use a piece of masking tape to mark the measurements, normally four for left/right/top/bottom.  Then I have a some what boxed area to force me to apply the decal where it should go.
Be aware after you apply your sticker, you can not undo it and use it again, since it can separate the design or text from each other.
After you decide where you want it, go ahead and start to peel your decal back, if it doesn't stick to the transfer tape the first pull, replace the transfer tape and push it together with your fingers or use a credit card to press together.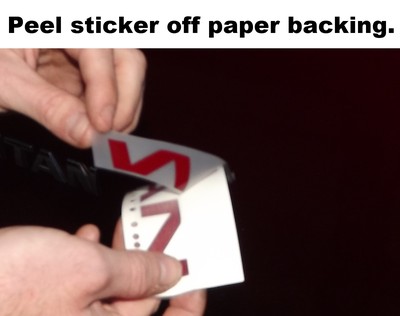 3: APPLY THAT STICKER!
TAKE YOUR TIME....YUP...YOU GUESSED IT......YOU GET ONE SHOT!
So you cleaned your area and also decided how and where you are going to place your new decal or sticker and you made sure your decal can peel apart easily. 
HOW TO APPLY SMALLER CAR STICKERS -
Now fully peel the decal off the backing and hold it on the tips of the masking/transfer tape.  Try not to touch the back of the decal itself since it could leave dirt on your decals back side.
You should have each hand holding the furthest corners from each other and keep it tight so that the decal does not fold in on itself.  Place one end of the decal down and then smooth it out to the other end till the decal is fully placed.
HOW TO APPLY BIGGER CAR STICKERS-
Do not fully remove the backing on your decal.  You will want to remove about 1/3 of the backing and start by applying that 1/3 of the decal to the car.  Then slowly pull more of the backing off while at the same time apply the decal to the car until you have fully applied the decal.  Either work left to right or right to left, which ever you feel best doing.
Don't forget you can always buy a $1 spray bottle at your dollar, or for us British people, the pound store, put ONE small drop of soap in it and fill with water and shake.  Then LIGHTLY (I MEAN LIGHTLY)  spray the area and then apply the decal.  This is only suggested for bigger decals or decals that you need to be in a precise area.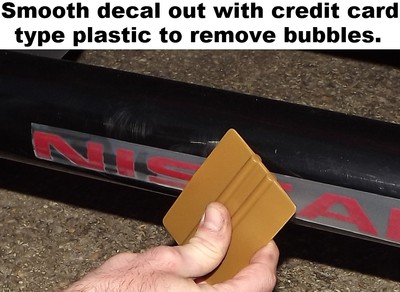 4: THE HARDEST PART!
!!!SEXIST ALERT!!!
THIS SECTION IS ESPECIALLY FOR YOU MEN, BLOKES, GEEZERS, GUYS.......WE KNOW PATIENCE IS NOT A VIRTUE YOU POSSESS BUT SERIOUSLY.....AGAIN.....YOU GET ONE SHOT....SO CHILL OUT AND WAIT....GO WATCH THE RUGBY, FOOTBALL, PORN (HEHE, YEAH, OK, OF COURSE YOU DONT!)

Waiting... yes, when you apply car atickers, this is the hardest part, because most people are so impatient that they can't wait and they mess up the sticker by removing the transfer tape too early!
The best way to allow your car sticker to dry is out in the sun, having it in the shade or in a cool place will only make it take longer.  If you used a mist of soapy water when installing your sticker and do not let the sun dry it, then it will take a very long time before it adheres correctly, since nothing is there to remove the water and dry the decal to the surface. 
Do not try and rush this by applying artificial heat, you can melt the transfer tape and vinyl and when you peel it, it could cause the sticker to stretch with the transfer tape.  Again the best way is the sun. 
Finally just give the sticker 30 minutes before you remove the transfer tape, go inside and eat lunch.  By the time your done you should be able to go back outside and finish your car sticker and be in a good mood from that great lunch.  If your decal is still not sticking, make sure you got it in the sun and it is warm out side, and just give it a bit longer.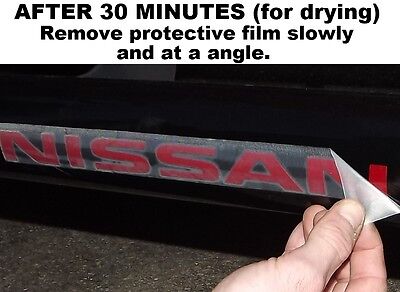 HOW TO REMOVE CAR STICKERS :
If you decide to remove your car stickers in the future all you need to do is start to peel on the edge and slowly remove at a downward slanted angle.  Then use rubbing alcohol or goo gone to remove any sticky residue left behind.